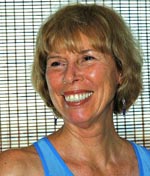 Georgia Stormes, RYT 500
After many years of traditional Yoga practice Georgia observed fellow classmates stop taking classes because of problem backs, shoulders and limb joints. This led her to seek a methodology of Yoga that was renewing for all body types, fitness levels, personalities and ages. The end result was intensive teacher training at the Nosara Yoga Institute, in Costa Rica with Don Stapleton, who trademarked Self-Awakening Yoga® during his 19 + years of teaching at prestigious Yoga centers.
Her Interdisciplinary Teacher Training includes: Various techniques for teaching and facilitating yoga postures, conditioning movements, pranayama, relaxation, meditation, and yoga philosophy.
Georgia integrates Vinyasa Flow Yoga into her classes, which fosters a balanced and flowing sequence of postures synchronized with the breath, stimulating natural movement of the body and an expanded self-awareness that is essential for progressing in Yoga practice.
Her background as an RN and second level Reiki training add to her understanding of the body on many levels and ensures a safe space for individuals to learn and develop their yoga practice.
Read what one of Georgia's students has to say about her methodology of teaching:
"I used to seek 'the edge' whenever I did yoga; always wanting to go deeper. It was great until I discovered how the very twisty, deep yoga I was doing exacerbated my herniated disc, my bursitis, and all the other things that were creeping in as 50 approached. I was out of yoga altogether until I found that Georgia could lead me through a series of movements that were civilized and incremental. I now know I can achieve all the benefits of yoga-straighter posture, core strength, ease of movement, better sleep, ability to slow down my mind — without risking injury. What a gift!" ~LH, Yoga Student
NEW CD! Inspired by the principles of Self-Awakening Yoga ®, Georgia recorded:
Gentle Yoga guided by Georgia Stormes © 2009
In this easy to follow CD, Georgia's soothing voice guides yoga practitioners through a relaxation sequence, a movement sequence which combines deeply restorative yoga movement inquiries with Hatha Yoga postures, and a healing Shavasana. An optional guided Chakra Posture Flow sequence follows.
CD's are available for purchase at The Center.
Georgia is a an Interdisciplinary Yoga Teacher graduate of the Nosara Yoga Institute. She holds a RYT 500 designation through the Yoga Alliance, and is a professional member of IAYT (International Association of Yoga Therapists).