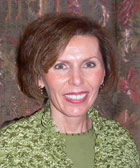 Connie Heagerty, CHT
Connie Heagerty is a mind/body de-stress educator who is certified in Yoga, Reiki, Hypnosis and is a trained Meditation and Tai-chi instructor. She has over 15 years of experiance with helping people discover which wellness or de-stress techniques work best for them and has conducted many workshops for small groups and large corporations.
Connie is a member of The American Board of Hypnotherapy, The International Association of Mind-Body Professionals and The Yoga Network.
Private Practice includes; Hypnosis & Stress Reduction.
Class offerings include; Hatha Yoga, Chiyoganosis, Stress Management, Stress Reduction 101, Self Hypnosis, Baby's first Massage, Meditation & Guided Visualization, Teen Esteem Chiyoganosis, and Yogasize Certification.
"Connie's class has made a great impact on how I want my body and mind to work together and feel healthy and rejuvenated. The instructor is most helpful, patient and professional and a joy to be around."
"A perfect beginner course. I really enjoy the guided meditation at the end of the yoga."
"This is the most amazing Center – I have never felt so wonderful after our Chi-Yoga-Nosis class. Will continue forever!!!" — M. Tucillo
Chi Yoga Nosis: "This is the best part of my long busy day. The lovely decor is so relaxing as well as the activity. Our instructor is so knowledgeable and pleasant - wonderful!!"
"I took Connie Heagerty's Hypnosis For Weight Loss and Exercise Motivation workshop on December 21, 2008. Here it is February 18, 2009 and I am 18 lbs lighter! I love the CD that she recorded to help reinforce the work we did. I have been listening to it consistently and it has really helped." - Karen T.L